USA is amongst the most prominent study destinations for students worldwide. USA houses some of the world's best colleges with extraordinary science programs; making MS in USA a popular choice amongst students. Truth be told, the colleges in USA pride themselves on being at the front line of innovation, research and strategies. They ensure that the most ideal assets are accessible to their students. USA delivers not only an array of educational and work opportunities but also a wide range of cultural backgrounds.
Here we have clarified the whole procedure of applying for an MS program in the USA, right from the time one needs to examine all the way till the completion of the application structure.

When planning on MS in USA, you have to start by planning for taking up some basic eligibility examinations like GRE and TOEFL. You can also choose to go for IELTS instead of TOEFL, but TOEFL Exam is more accepted across Universities in the USA.

GRE exam assesses your critical thinking, analytical writing, verbal reasoning, and quantitative reasoning skills — all skills based on the learning over the course of many years. Some schools may also ask for one or more GRE Subject Tests. The main motive of the GRE exam is for the graduate schools to test your skills before admitting you in their college. The GRE test consists of three main sections. The first one being, the Analytical Writing section. The other two sections, Verbal and Quantitative sections include reasoning questions.
The test can be taken up on paper and also on computer.

The TOEFL iBT® test combines your reading, listening, speaking and writing skills and measures your ability to use and understand English at the university level to perform academic tasks. TOEFL test sets you up for the basic English language necessities of a college.

Next, University selection and applications.
The scores of these eligibility examination further qualifies you for enrolling yourself in a university. Based on these scores, you can get an idea of the range of colleges you can apply to. One of the alternative methods of choosing the right college for you is, Profile Evaluation. Profile evaluation for MS in the USA helps you finalize the right universities by going through your academic scores and work experiences. It gathers the results of all the academic examinations appeared and lists down the colleges that match with your score assessment. This develops a right approach to shortlist colleges rather than going through all and receiving rejections.
How To Select University For MS in USA
1. Location:
Some people have their preferences of Universities based on the location of the University which determines the living environments, costs, job availabilities, and your adaptability to the surrounding,
2. Cost of Education:
This is a primary factor for most. When applying for college students prefer Universities with a comparatively less tuition fee. If School's tuition is high, then you can opt for funding opportunities like fee waivers, scholarships available in your college and your department.
3. University rankings:
Higher University ranking gives more credibility to the students as it provides more worldwide recognition, giving way to more opportunities and exposure.
4. Placement and job opportunities:
Most students look for Universities based on the work opportunities they would be receiving post their course program. This remains as a matter of concern for many.
5. Internship:
Gaining work experience while studying enhances your skills. Finding a college that offers such internships and training can benefit for future work.
How Much Does It Cost To Do MS In USA?
Studying abroad is an expensive affair. Knowing the expenses required and planning them beforehand can solve the problem. A professional Study abroad consultant can guide you better on all the expenses you need to incur for an MS in US. When estimating the cost you should consider factors like accommodation, daily needs, travel, health coverage and food, that form a major chunk apart from the tuition fees.
Tuition Fees:
Colleges in the US are significantly separated into two classifications – Public/State and Private. The public colleges cost less than private colleges. Your educational cost relies upon the kind of program and college or school you choose. To cover educational cost charges, you will require $10,000 to $55,000 (USD) a year (approx).
Accommodation:
Most colleges in the US offer stay at the campus for international students. Living in the college accommodation on campus can turn out to be cheaper and requires enrollment well in time to save a place.
You can also choose to stay outside campus wherein you can rent a place witous expenses and living costs including communication,travel,stationary,transport and other daily needs, a single student budget in the US comes between US$ 10,000 and US$ 25,000 per academic year (approx.) depending on the choice of city.
Your arrangements to learn in USA depend altogether on your financial status as well. Before applying with any college, make a harsh estimation in regards to your everyday costs.
Looking for a degree from an American college is genuinely costly. Thus, verify that you can support your way of life while studying.
Once the colleges are shortlisted, you need to start applying to them.
The initial phase in applying to colleges is to fill the online application. In case the online application isn't accessible for a specific college, it can be downloaded from the college's site.Along with the accompanying documents, the application can be sent to the college's office.You should check for the deadline for application for the respective college when applying to it.
Requirements For Admission In MS In USA 
There are certain basic requirements that are similar for the majority of Universities.

Application fee payment (If you have not paid the application fee online): The colleges demand some proof of payment to college if not paid online.

Recommendation letters:

 It is advisable to have professors or employers to write a recommendation letter for the candidate.

GRE/TOEFL/GMAT/IELTS Score Xerox.

Transcripts (Bachelor's Degree):

Academic transcripts comprise of all the qualifications that the candidate has listed in the application form. It is advisable for the candidate to start procuring transcripts well in time.

Bachelor's Degree certificate (If available)

SSC/10th or Equivalent Certificate

12th/ intermediate or Equivalent certificates

SOP (Statement of Purpose) : The Statement of Purpose is a standout amongst the most essential components of the application for entrance into MS in the US.It mentions the candidate's responsibility of joining the program and his objectives throughout the program. One significant thing to recall while composing a SOP is that it ought to be brief, and reflect clearly what the applicant needs from the program.

Bank statement

Study certificate or Job experience certificate

Photocopies of first and last pages of your passport

Copies and proofs of all your other activities, interests and engagements
Once you receive the confirmation of admission from the applied Universities, you can finalize your university to join.
Regardless of whether you have adequate money to help your learning in America, applying for monetary aid is a decent idea.
A great deal of colleges in the country offers education loans, scholarships and monetary aid to meritorious students. This will advance you an additional help alongside your costs.
Once the college and program is finalized, you can put forth a word for your request for a scholarship to the college.
How To Apply For Scholarship For MS In US ?
1. When applying for scholarships for MS ensure that you stick to the deadlines and not miss out on them. A lot of people who wish for a scholarships fail to plan them early and later miss the opportunity as no scholarships are left.
In many cases, the colleges have two different deadlines for admission and scholarship application. To be able to be eligible for the scholarship, plan well in advance and look carefully for the deadlines.
2. There are plenty of scholarships made available for the students applying globally, each with its very own qualification criteria and necessities.

Only if you meet the necessities, you can apply for a scholarship. Go through the requirements of scholarship at your target colleges and see if you meet the qualification criteria.
3. Most of the US universities only consider your undergraduate – B.Tech or BE degree – marks. Some Universities might ask for your 11th and 12th grade scores, but very few actually consider these scores while making a decision.
Academics play a very important role for making scholarship decisions. If you have a high GPA but a comparatively poor performance in your GRE or GMAT, you still have a decent chance of getting a scholarship.Most universities emphasise on undergraduate GPA. They asses your GPA across every semester/year and total aggregate GPA (or percentage) throughout your undergrad. Moreover, the application is always judged as a whole when coming to a decision on whether the scholarship is awarded.
1. Other than your academic scores, its is essential you demonstrate your ability to be considered for the scholarship in the college. You need to mention skills that make you a better candidate than other applicants. Leadership skills, volunteering in organizations or being involved in any such social or academic organization add up to your application.
2. Mentioning about any competitions that you have been a part of or won, or any other achievements, recognitions and work experiences add value to your application.
These are just some of the general documents that are required by the majority of colleges when granting scholarships. Colleges can ask for more added documents if they find a need for them.
The college confirmation is followed by the Visa formalities that need to be done well in time. As a prerequisite, you need a student visa to be able to study in the country.The visa you need will depend on your age and the type of study you wish to pursue in the US.
Once you receive an acceptance by a US school or university that is certified by the Student and Exchange Visitor Program (SEVP), you will receive a Form I-20 from the institution's international student office, which is a paper record of your information in the database called the Student and Exchange Visitor Information System (SEVIS).
Documents Required For US Student Visa
1. When applying for your student visa for the US, you will need:
2. A passport with a validity for at least six months beyond your course tenure in the US (unless exempt by country specific agreements)
3. Acceptance at a SEVP approved school and your Form I-20
4. Application fee payment for the SEVIS
5. Non-immigrant visa application and the Form DS-160 confirmation page
6. Your photograph as per the requested format, and number
Some Additional Documents That Might Be Asked For
1. Academic documents such as transcripts, diplomas, degrees or certificates
2. Evidence of having sufficient funds to keep up with your living expenses throughout the period of your stay in the US. This may include:
a. Bank statements
b. Financial undertaking by a sponsor to cover your accommodation and living costs
c. A scholarship program
3. Assurance that you will leave the US once you have completed your course of study. This can be through an air ticket from US to your home country.
You can also be called for a personal interview at the US embassy or consulate post submission of your documents, if required.
F-1 Student Visa
Most students opt for the F-1 Student Visa when choosing to study overseas. You'll have to apply for your visa application through the internet from the US Embassy and Consulates India website. You can apply as long as 120 days before your course begins.
Top Universities In USA For MS
:
Massachusetts Institute of Technology (MIT)

Harvard University

Stanford University

California Institute of Technology

Princeton University
These are some of the high ranked Universities in the world that provide MS in United States.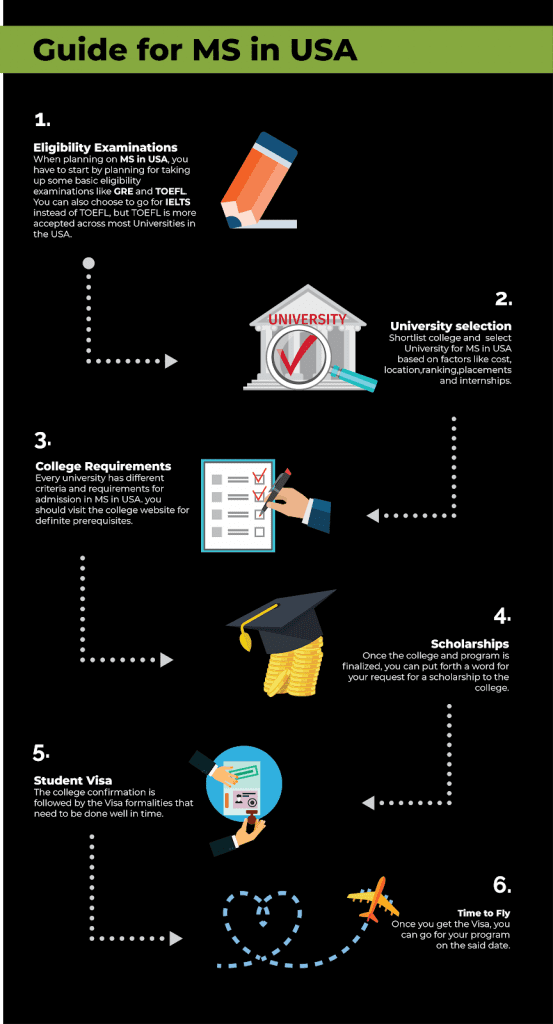 We hope that this information about MS in USA with respect to Universities, cost required, eligibility, scholarships, Visa, admission requirements and other details essential when considering MS overseas, helps you with your process.