Master's Webinar Series: Student speak – Ishan Raina
Breaking out of your comfort zone, a plethora of travel options, meeting new people, trying out food from different cultures, interacting with Nobel prize winning professors, hearing CEOs of top MNCs debate, learning a new language are some of the experiences that Ishan Raina is looking forward to in the USA. Having achieved admits to Duke University and waiting for the Ivy League results, it is an opportunity to learn about his personal experiences, review tips and tricks for a strong SOP, a successful application, and learn how to prepare yourself to get your dream admit with Ishan Raina and Abhinav Gogoi
Date: November 28
Time: 06:30 PM(IST)
Limited seats available, hurry up!
Indian University Series: Ashoka University
Choosing a top liberal arts university in India is slowly becoming the norm for students who want to excel in life. For the ones who want to study in a hands-on, transdisciplinary, and a mentally engaging approach to study in India, then they will not need to look further than Ashoka, which will be deliberated by Himi with all the latest updates from Ashoka. We will also hear from Aakangsha as to why she chose Ashoka over New York University and what did she need to do differently to apply to Ashoka.
What board to choose after Class 10
Choosing the right board or curriculum after Class 10 makes a big impact on your career and university choices. It is a well-known secret that international boards are preferred more than regional boards by colleges. The webinar and Q&A session provides an independent and fair perspective at what are the demands of the top universities and therefore what board one must choose for optimum results. Join Abhinav B Gogoi on 7th November at 6:30 PM to understand and question the right choice of curriculum. Parents and Educators are welcome, along with students!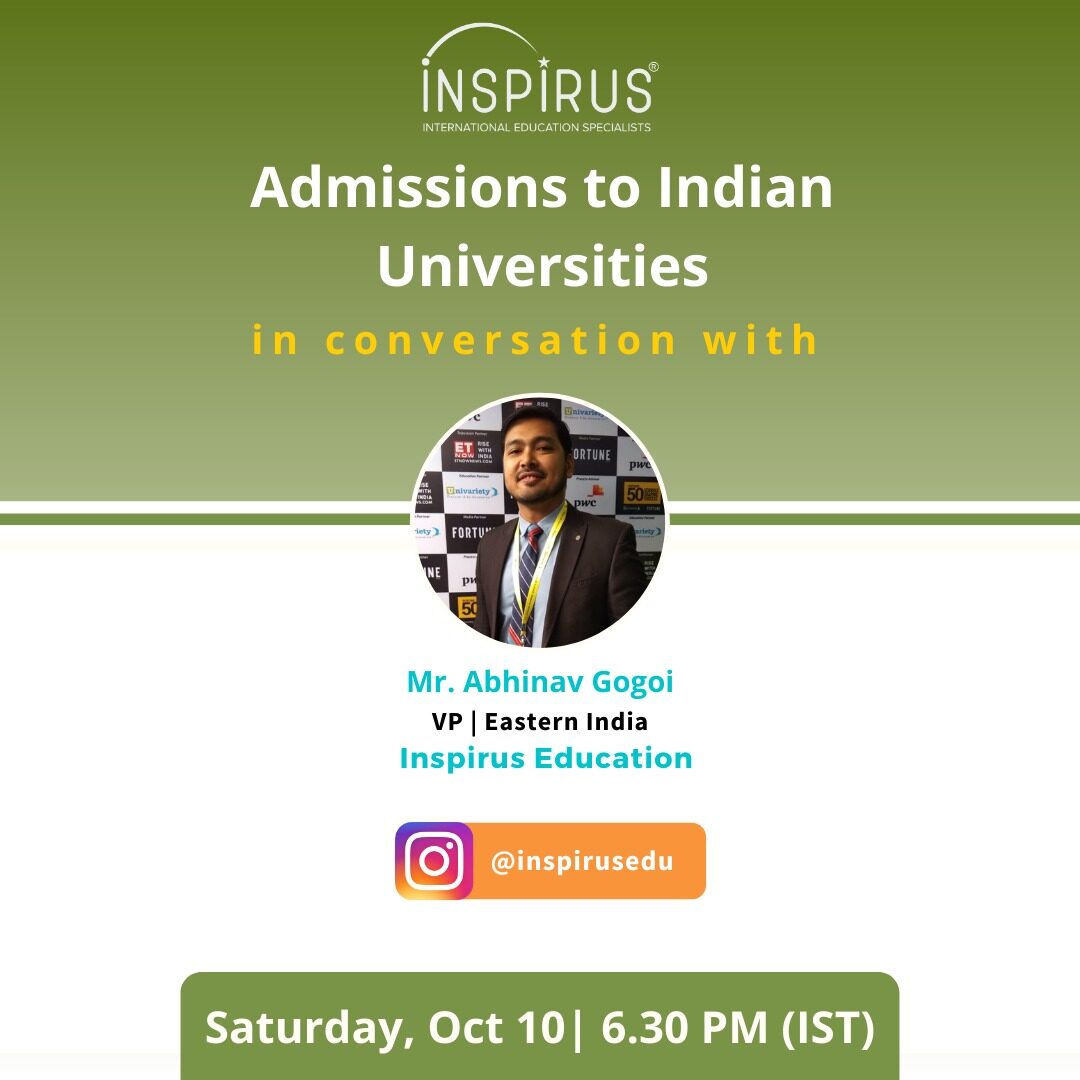 InstaLive Q&A on Admissions to Indian Universities 2021
Should I study in the public universities or should I choose private instead? Are the courses compatible with UGC in all private universities? Are there enough seats beyond the cut-offs in DU, MU or KU? Post the pandemic, what will be the college scenario? Ask Me Anything series brings forward a InstaLive Q&A about Indian Universities with our expert counselor Abhinav B Gogoi. Learn about their application processes, ways to choose the right colleges, review tips and tricks of admissions, accomodation, travel, financing your studies and discuss how to prepare yourself to tackle all the hurdles for the admission into your dream college.
Study Medical And Health Sciences Abroad
Is NEET compulsory? Will my foreign degree be recognized by the Medical Council of India? If I want to practice in India, will I have to sit for the FMGE? Are scholarships available for medicine abroad? Is MBBS in the UK equivalent to MD in the US / Canada? Is studying medicine in Ukraine / Russia or China a good option? These are only a few of the burning questions that will be tackled during the webinar to guide you to weigh your options of studying medicine abroad in a strategic way.
Alumni Speak – UG Study Abroad Experience  
Should I study in the US or should I choose Canada instead? Are the visa regulations compatible with international students? Are there enough opportunities for jobs and internships? Post the pandemic, what will be the college scenario? Learn about their personal experiences, review tips and tricks of survival, accommodation, travel, finance, part-time jobs, and discuss how to prepare yourself to tackle all the hurdles for admission into your dream college with our expert Ms. Bakhtawar Krishnan and her students Trishank and Ritika.
SOP Writing Skills
Writing a compelling and an inspirational SOP is a work of art. Through your essay, your reviewers get a flavour of your personality, interests and goals, almost like they have met you in-person. It is the difference between getting admission to your dream college or safe college. Celebrate Teachers Day with the very best of English faculty, Mrs. Bhanumati Manian, and her students, Shlok and Safna, as they take you through the steps to write a stellar and a memorable SOP. Don't miss it and join us live on
Alumni Talk: Study Abroad & Experience
Breaking out of your comfort zone, a plethora of travel options, meeting new people, trying out food from different cultures, interacting with Nobel prize winning professors, hearing CEOs of top MNCs debate, learning a new language are some of the experiences of studying abroad. Learn about their personal experiences, review tips and tricks of survival, accomodation, travel, finance, part-time jobs and discuss how to prepare yourself when you finally get the admit at your dream college with Vibha Nayak and Abhinav Gogoi
Inspirus Insta Live Session (SAT And Beyond)
SAT is one of the most important tools to build your aptitude and profile for UG Admissions. Along with your SAT scores, there are a few important criteria that determines your entry into the top 100 universities of the world. Learn about what steps to follow, along with tips to crack the SAT with Abhinav Gogoi on InstaLive.