Study Abroad Consultants
What makes us stand out: We are 'Independent Education Consultants' Our team consists of well-travelled counselors who have rich and diverse experience in this field and have counseled thousands of students. We give unbiased advice keeping in mind the student's needs and what works best for the student.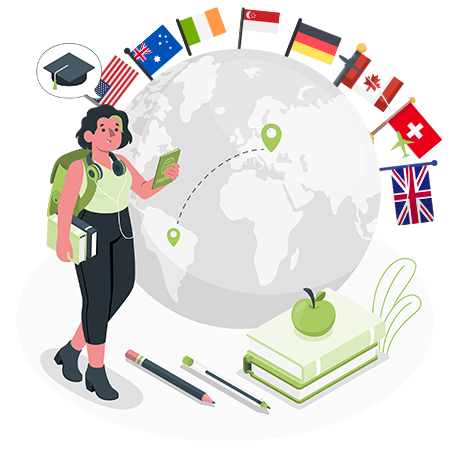 Fill in the details to talk to our counselors
We focus on education as a medium to inspire young minds to explore and discover their best selves and achieve amazing things. We are passionate about our business, and work closely with all stakeholders and draft out individualized solutions for all your study abroad dreams.
Thrill, don't just fulfill
Remain Childlike – Always Willing to Learn
What country, University and course a student chooses for abroad education can literally make or break his career. Choosing the 'right' of all three makes a huge difference. After deciding to pursue education abroad, trying to figure out what actually works for you and suits you the best is often an overwhelming process. That's where 'Study Abroad Education Consultants' come to your rescue. All of the nitty-gritties of applying to a foreign University are discussed in the counselling sessions. To save you from all the confusion and to make the whole process smooth, choosing the correct study abroad consultants plays just as important a role as choosing the University itself.
The Study Abroad Consultants Team At Inspirus:
The team at Inspirus comprises of professionals who are experts in their own fields & thus are able to provide the ideal guidance to the students. With a collective experience of more than 30 years, the team at Inspirus through comprehensive programs thrives to provide the students with all the support they need to go abroad & study in their dream university. Personalized guidance from our experts ensures that each student gets the guidance they need to go ahead in their career. 
Our Unique approach gives the students an edge over the others in their University applications. Though the counseling differs from course to course, depending on what the student wishes to take admission in, the basic structure still remains the same. 
Inspirus Students Currently at

Top School Universities​​
New York University Stern School of Business
Duke's Fuqua School of Business
Gabelli School of Business
Baruch Zicklin School of Business
IIT Stuart School of Business
Eller College of Management
Whitman School of Management at Syracuse University
Kelley School of Business
The Process Of Overseas Counseling
STEP 1: GENERAL GUIDANCE & SELECTION OF UNIVERSITIES
In this first step of the Counselling Process, the counsellors perform a profile analysis of the students through the SWOT analysis method, analyzing their strengths & weakness while also keeping in mind the opportunities & threats which the economy of the country they'll be visiting, presents to them.

It is important for the students to be sure of what their pros & cons are when choosing an overseas country to go to.

Our counsellors advise the students to help them build a stronger profile. ,

They help them decide the best University options for the students to choose from.

While choosing these Universities, the factors counsellors keep in mind are job opportunities, financial aid, alumni feedback, quality of programs, rankings of Universities, etc.
STEP 2: GUIDANCE FOR APPLICATION PREPARATION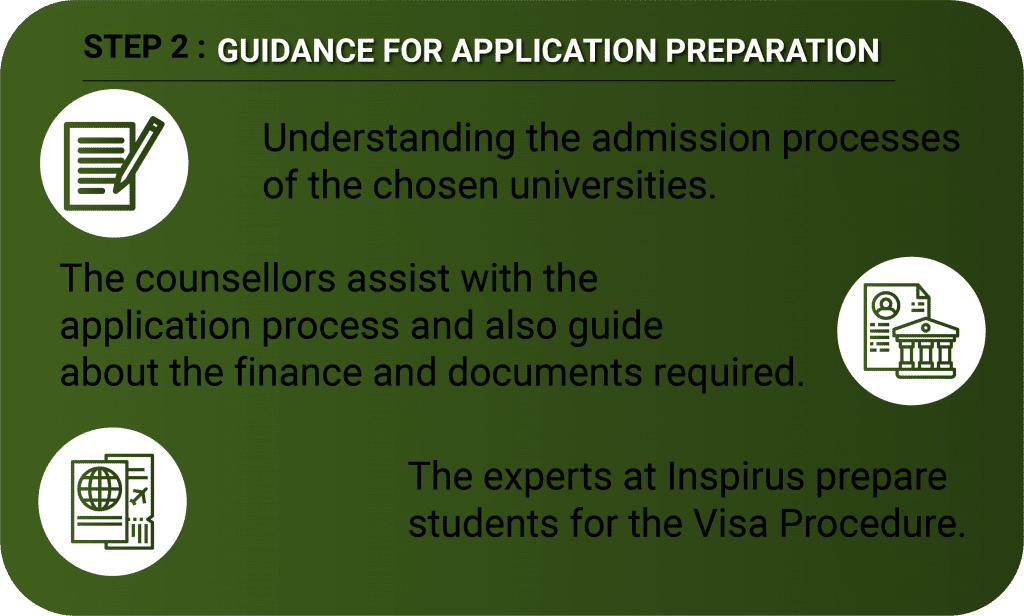 Once the student has understood the International education system & chosen the right Universities, the next step for them is to understand the admission process at those universities.

Our expert overseas education consultants help students prepare recommendation letters, SOPs, essays, etc to help them create a stronger application when applying to a certain University.

This part of counseling includes expert assistance in the application process, interaction with the student's parents for financial planning, and along with this expert guidance to help prepare the financial & academic documents required for admission.

We make sure that we guide the students perfectly at each stage of the application preparation.
STEP 3: VISA COUNSELLING & PRE-DEPARTURE PROGRAM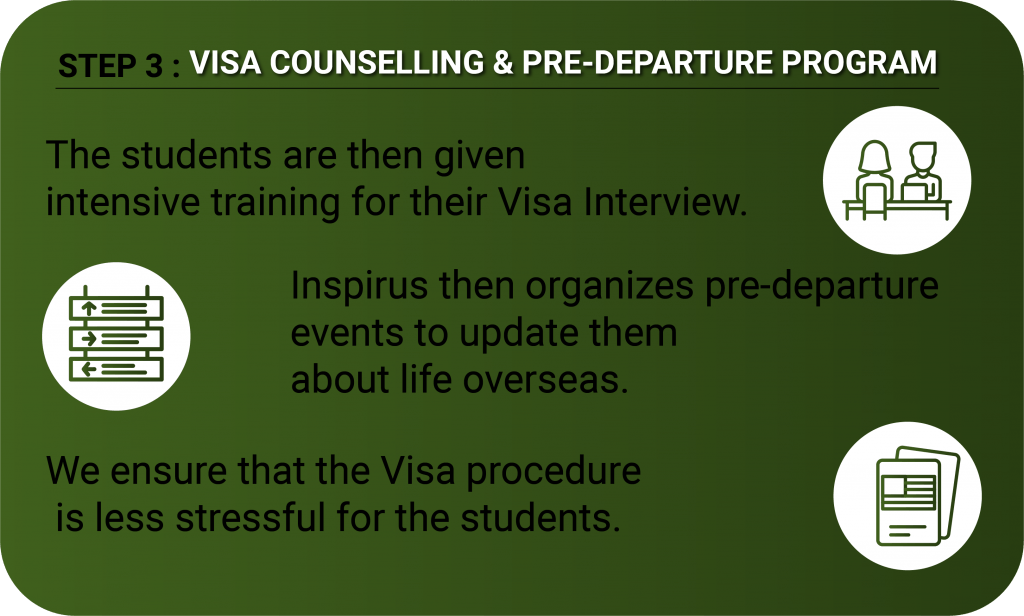 The last step of the counselling process, this is an important step. The experts at Inspirus provide the students with the psychological preparation they require to prepare themselves for the Visa Procedure.

They provide Visa counselling along with help in preparing visa documents along with the proper completion & verification of Visa form.

We make sure the students do not need to worry about anything when applying for their visa.

The students are also given intensive training so that they don't face any trouble when appearing for their Visa Interviews.

This training includes up to 8 rounds of mock interviews for thorough practice so that students don't feel nervous when facing their interviewers.

Inspirus also organizes pre-departure events to spread awareness focusing on topics like general awareness, insurance, health, life in overseas countries etc.
Free Resources For Your Study Abroad Dream