The Graduate Management Admission Test (GMAT) assesses your analytical, verbal, and quantitative skills and is used for admission to a graduate management program in most business schools around the world. In our earlier article, we dissected the GMAT to help you understand various sections of the test and the type of questions asked. In this article, we are specifically going to talk about the Verbal section along with some tips to help you improve your verbal score on GMAT.
The verbal section covers three areas: Reading Comprehension, Sentence Correction, and Critical Reasoning. In order to improve your verbal scores, it is important to identify areas that need improvement.
Before beginning your GMAT preparation, you must be well-acquainted with what is the GMAT exam exactly.
Best GMAT Verbal Tips to improve GMAT verbal score:
Identify your weaknesses and strengths
In order to improve your GMAT verbal score, first up, attempt a mock test. Don't prepare or read or revise. Just take a mock GMAT. Now analyze your score. If you have scored low in the verbal section, then break it down into sections and see if any particular section is specifically weak. Further, you should look at individual questions and analyze why you got the answer wrong or right.
This exercise will help you create a starting point as you will know where you stand before you start preparing. Depending on the weak areas identified by you, create a study plan that can help you target these areas first. Eventually, as you appear for more mock tests, you will be able to assess your improvement in a much better manner.
While this is a good way to improve your GMAT verbal scores, we have also collated 5 important tips to help you approach this section with increased confidence. Keep these tips in mind for your GMAT verbal preparation:
1. Mock tests should be timed
Remember, you have 65 minutes to complete 36 questions in the verbal section. This means around 108 seconds per question. If you take too much time on certain questions, then you might not have enough time for other questions. This would mean that you would either guess the answers or not be able to answer all the questions leading to a low score. Hence, ensure that you practice answering each question within 100 seconds.
2. For Reading Comprehension – read for answers
The reading passages in GMAT are usually boring and highly dense. At times, the passages evoke opinions in the student's mind. You need to practice the art of reading clerically with a clear objective of finding answers. Each passage is followed by questions with 5 answers and you are expected to find the right answer. Read to eliminate four of these and find the right answer as quickly as you can.
Also Read: How to crack GMAT
3. Sentence correction – learn the rules
This section tests your knowledge and understanding of the conventions of written English. In simple words, your awareness of some basic grammar rules like subject-verb agreement, misplaced modifiers, etc. and the application of these rules. If this is your weak section, then you need to ensure that you understand and practice questions on these rules. Remember, you have to eliminate four wrong answers out of five. If you know the rules well, you might be able to eliminate them easily.
4. Read newspapers and magazines
One of the best ways to improve your verbal skills is reading. Get into a habit of reading some leading English newspapers like The Times of India, The Economic Times, The Financial Express, etc. The articles in these newspapers are written by people skilled in the art of writing and are grammatically correct. It also gets you into the habit of reading and understanding the context of the article as you go. Further, you may want to read these articles online to improve your online-reading speed too.
5. Coaches are the wind beneath your wings
While you can prepare for GMAT by self-studies, having a coach by your side adds the extra wind beneath your wings which can help you soar higher. Coaches and mentors can help you identify your weak areas and suggest ways to improve them. Most GMAT coaching classes offer mentoring, counseling, and guidance to help you create a tailored study plan and cross any obstacles that you may encounter along your journey.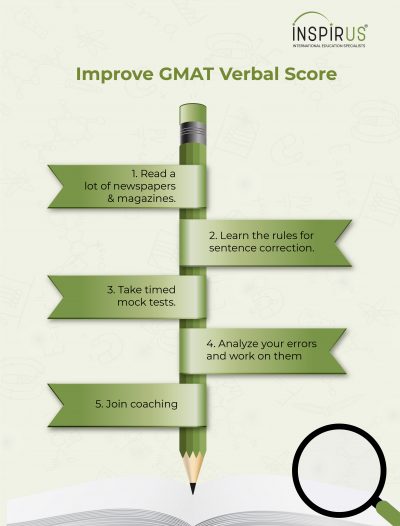 Follow the above pointers religiously and you are bound to get a good GMAT score. All the best!
At Inspirus Education, we believe that every student is unique and has a specific requirement from a coach. Our GMAT test prep program has been designed to offer a personalized study plan for every student and a mentor to guide them. The batches are small in number allowing for personal attention to each student.
If you are targeting international business schools, then a good GMAT score is certainly a must. Pull up your socks and start working on the GMAT verbal section with a concrete plan. The cherry on top is that you will develop great verbal skills for the rest of your life!
Now that you know how to improve your GMAT verbal score, are you ready to begin?
[simple-author-box]