The SAT is a globally recognized college admission test. The SAT is a standardized test for most college admissions in the United States. It is owned, published, and developed by the College Board, a nonprofit organization in the United States. It was formerly developed, published, and scored by the Educational Testing Service which still administers the exam. They state that the SAT assesses how well the test takers analyze and solve problems—skills they learned in school that they will need in college. The SAT is typically taken by high school sophomores, juniors and seniors. It tests your knowledge on- reading, writing & math. The SAT and high school grades are both very predictive of college success and, because they are slightly different measures, together they are extremely powerful. While preparing you should know the do's and don'ts of SAT exam, which will help you to score better.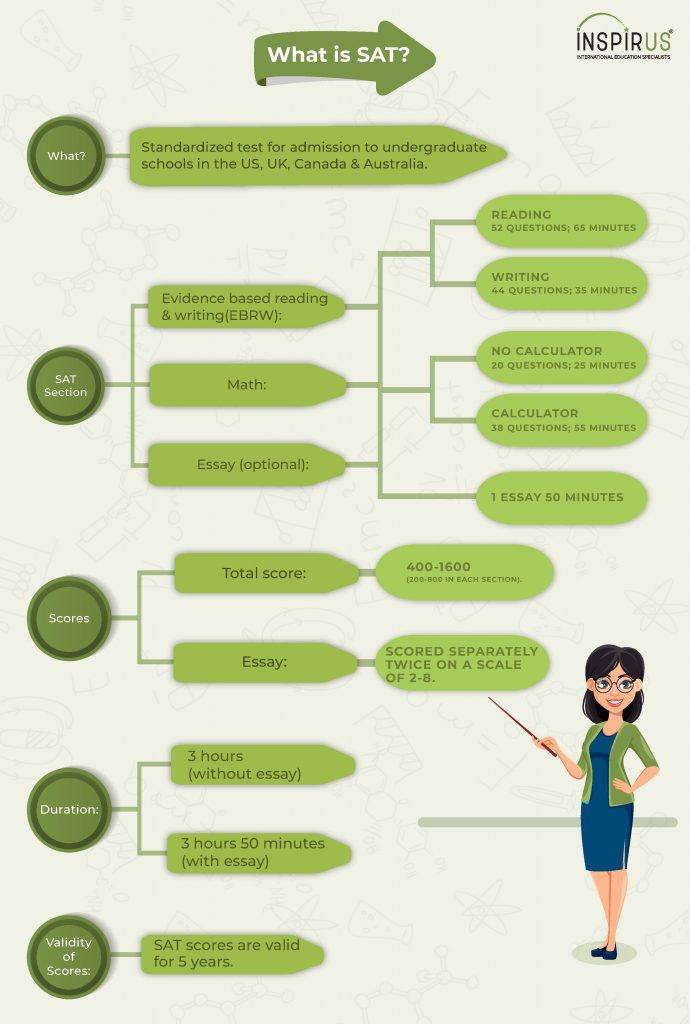 What is the SAT® test all about?
Before one begins with SAT preparation, it is important to know the SAT exam details.
The SAT doesn't test logic or abstract reasoning. It tests the skills that you learn in school: reading, writing, and math.
| | |
| --- | --- |
| | The critical reading section includes reading passages and sentence completions. |
| | The writing section includes a short essay and multiple-choice questions on identifying errors and improving grammar and usage. |
| | The mathematics section includes questions on arithmetic operations, algebra, geometry, statistics and probability. |
What is SAT® test format?
SAT consists of two major sections: The 'EBRW' or 'Evidence Based Reading and Writing' section and a 'Math' section. Both the sections are scored on a scale of 200-800.
Let us have a quick glance at the SAT Exam pattern in the following tabular form.
COMPONENTS
DETAILS

1.

Duration

3 hours (SAT without Essay); 3 hours 50 minutes (SAT with Essay)

2.

Number of sections in the SAT (Reasoning) Test

Evidence-Based Reading and Writing, Reading Test, Writing and Language Test, Mathematics and Essay (optional)

3.

The overall score range of SAT (Reasoning) Test

400-1600

4.

Total number of questions in the SAT (Reasoning) Test

154 questions + 1 (optional essay)

5.

Type of examination

Mostly objective

6.

Number of Subjects in SAT Subject Test

20

7.

The overall score range of SAT Subject Test

200-800
The below-mentioned table details the number of questions asked in the individual sections and the time allotted to attempt those sections. It will give the examinee a fair idea of how he is expected to demarcate his time to the various sections in the examination hall.
| | | | |
| --- | --- | --- | --- |
| SECTION | TIME IN MINUTES | NUMBER OF QUESTIONS | TIME PER QUESTION |
| Reading | 65 | 52 | 75 seconds |
| Writing and Language | 35 | 44 | 48 seconds |
| Maths (with Calculator) | 25 | 20 | 75 seconds |
| Maths (without Calculator) | 55 | 38 | 77 seconds |
| Essay (Optional) | 50 | 1 | |
| TOTAL | 3 Hours 50 minutes (Only 3 Hours without attempting essay) | 154 (+ 1 Essay Prompt) | |
As is clearly visible, the SAT provides a considerable chunk of time to get through each topic rather than further dividing them into sub-sections. Additionally, you will be getting a five minutes break after each hour of testing, thus implying that the first break would be given after the reading section and the second relaxation would be given after the maths no calculator section. If you are attempting the Essay section as well you would be given a break before the start of it. To make it even more convenient for the test-takers, the College Board has become more transparent regarding the details of the question format you will be presented with on the D-day. 
Let's have a closer look at each of the sections in the order of encountering them in the SAT examination.
Reading Section:
It is the longest section of the examination and all the questions are passage-based. There would be five passages you need to attempt and you will have to answer 10-12 questions based on each passage. All the questions are multiple-choice and feature four choices i.e. A, B, C, and D.
One passage would be from the US or World Literature, two dealings with History and Social Sciences and two related to Science. One or more of these passages will feature a graph or a table. In fact, you would be facing questions pertaining to Graphics on all the four sections of the SAT.
Writing and Language Section:
Precisely, it is known as the writing section. You would be granted about 35 minutes to complete this section in the test. There would be four passages with 11 questions each, totaling to 44 questions. The question type is Multiple Choice and since some of them are about changing a word or a sentence as per the correct nuances of grammar, many will feature an answer choice that reads "No Change".
The passage deals with Careers, Social Studies, Humanities, and Science; hence, the subject matter is predetermined to a large extent. The passages could be an argument based, explanatory or non-fiction narrative and will test your decision-making skills. In some passages, you might also be asked whether the given graph and narrative sync with others, given the fact that the designers of the SAT are a little enthusiastic about graph-based questions.
Math (No Calculator Section):
In this particular section, you are obviously not permitted to use a calculator. You would be provided with 20 questions to attempt in 25 minutes. 15 questions are Multiple Choice-based and the remaining 5 are "Grid-ins", also known as student-produced responses.
The following table will detail you about the topics asked in this section along with their weightages in the exam.
| | | |
| --- | --- | --- |
| CONTENT CATEGORIES | NO. OF QUESTIONS | PERCENTAGE WEIGHTAGES |
| Heart of Algebra | 8 | 40% |
| Passport to Advanced Maths | 9 | 45% |
| Additional Topics | 3 | 15% |
Questions on Data Analysis are rarely asked in this section.
Math (With Calculator) section:
It's pretty simple, you are allowed to use a calculator in this 55-minute-long section containing a total of 38 questions, though it's not a compulsion. The College Board only wants to test your impromptu decision-making skills i.e. whether you should be using a calculator for every question or using one would slow you down. It also wants to test your calculator fluency in this way. 
There would be 30 MCQs and 8 Grid-ins. One of the Grid-ins will feature an Extended Thinking question in which you would be given a word problem or a graphic and two or more questions would be asked based on it. The following table will clear the subject content to you.
| | | |
| --- | --- | --- |
| CONTENT CATEGORIES | NO. OF QUESTIONS | PERCENTAGE WEIGHTAGES |
| Heart of Algebra | 11 | 29% |
| Passport to Advanced Maths | 7 | 18% |
| Problem Solving and Data Analysis | 17 | 45% |
| Additional Topics | 3 | 8% |
Essay Writing section:
This is a completely optional section and it's up to you to attempt it or not. However, if you are eying the prestigious Ivy League Colleges, then you must give it a full-fledged shot. This 50-minutes section gives you the task to write an essay based on a 650-750-word Passage. Unlike the old SAT pattern where you were asked to present an opinion supported with examples, the new SAT wants you to analyze how the author builds his argument. You might be asked to present an objective and analytical breakdown of the techniques the author uses to persuade the readers. To cut it short, you are basically required to write a thesis-driven essay based on the excerpt given to you.
You would be scored on a scale of 400 to 1600. You will be getting two sections, Maths and Evidence-based Reading and Writing section, the scale for each ranging from 200-800.

If you attempt the essay, its score won't interfere with your total score. It will be calculated by two readers and you will get three scores between 2-8 in the three areas: Reading, Analysis, and Writing.

Additionally, you would be getting scores on how you fared in each of the sections individually. This would help you analyze your performance and hold on each section.

The cross-test scores and subscores will break down certain skills, showing your performance on the questions based on Analysis in Science, Command of Evidence, and Words in Context skills, etc.

The most important part of the new SAT is that there is no negative marking in the examination, implying that you will only be getting marks for the right answer and no marks will be deducted for wrong answers. Hence, you would not get any marks for wrong or unattempted questions.
SAT Test centres in India
There are over 50 test centres in India spread across 30 cities. You can find the nearest centre on your preferred exam date here.
How many times can I take the SAT in a year?
The SAT is conducted 7 times in a year. Even though you can take the SAT as many times as you want, make sure you don't go overboard. We don't recommend taking the SAT more than 4 times in total. 
How many times is SAT available in a year?
This exam is available 7 times in a year; once a month in March, May, June, August, October, November and December.
Should I take ACT or SAT?
Even though the two exams are pretty much similar, they have a few differences which can be deciding factors whether you should appear the SAT or ACT. For example, the ACT has a Science section which the SAT does not have. Similarly, ACT has thrice the number of Geometry questions as compared to SAT. You can check out this article on SAT vs ACT to help you decide better.
How do I register for SAT?
Go to the 'College Board' website and sign up. 

Fill in all the necessary details.

Select a test date and centre.

Pay the necessary fees.
How can I prepare for SAT?
You need to start preparing for SAT well in advance so that you don't fret at the last minute. Here is a comprehensive SAT preparation guide to help you with SAT preparation.
When should I take the SAT?
When deciding when to take the exam, you need to keep a few factors in mind. Here are some points to help you decide when to take the SAT:
Your admission deadlines

How well prepared you are and how much time you need for preparation

Your schedule 
Depending upon the above-mentioned factors, choose a date that best suits you.
At Inspirus Education we provide coaching on SAT with customized programs, exhaustive study materials, practice test, video lectures and individual focus. Join  SAT coaching classes in Mumbai at Inspirus Education and make your study abroad dream come true.
References:
[simple-author-box]