If you are planning to study overseas, then you might already have researched a lot about various universities and countries that you could consider. While the reputation and quality of education offered by your targeted university are important, there are many other aspects that need to be factored in. In this article, we will discuss all these aspects which can help you make an informed decision.
Some statistics
World Education News + Reviews published a report about Indian students who enrolled in the top seven education destinations around the globe. Here is what they found:
In 2005-06, around 138,388 Indian students enrolled for international education.

Within a decade, this number increased by more than 100% and reached 281,160 in 2014-15!

As per the figure, it can be observed that MS in USA is super popular. These figures speak a lot. For example, while the number of students going to the U.S.A. increased by around 75% in the decade, the percentage of students enrolling with US universities to saw a dip of around 8%. The point we are trying to make here is that while many universities still offer similar standards of education and opportunities, there are many other factors that students consider before enrolling for an MS program. Let's look at these factors for the top three countries, the U.S.A., Canada, and Australia.
The Visa processing time
To study overseas, you need to apply for a student visa. Here is a quick overview of the application processing time:

Visa validity after the program
Before choosing a Master's program it is important to look at the period you are permitted to stay in the country to look for jobs or further options. Here is an overview:

Work opportunities after studying
Finding a job after the program certainly ranks high on the list of priorities of most students. Hence, it is important to research this aspect well before applying.
According to a report ranking the top 150 universities around the globe in terms of employability in 2015, the US, UK, Canada, Germany and France feature in the top 15. However, it is important to note that getting a job after studying depends on a wide range of factors like the course taken, market conditions, number and quality of social contacts developed during the course, etc.
Availability of good universities
This is a no-brainer. Getting into Harvard or Yale is certainly better than a less reputed university. While other factors do play a role, select a country that has good universities to offer. Even if you don't get through them now, you will have the option of enrolling for a specialized course with them after finishing your MS, enhancing your qualification and offering better career prospects.
Expenses
Here comes the big one. When you plan to study overseas, you have to prepare yourself for huge expenses. The course fees, accommodation, food, travel, and other costs can add up to a substantial sum. While many students opt for a loan to cover these expenses, it is prudent to be aware of the amount of debt you would be putting yourself in before you start.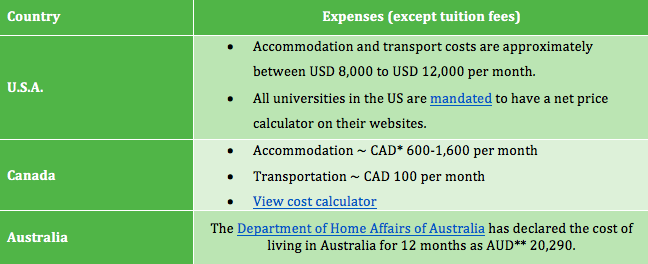 Scholarships
Scholarships are one of the most important determinants for Study Abroad choices. When thinking of scholarships we recommend that you do a thorough search as there are many scholarship options available. Your host University will have multiple scholarships, specifically more so for students from Asia. Most importantly, US Universities have been very generous with scholarships in recent years. There are a lot of scholarships available in India itself that you can apply to. It's important to note here that different scholarships have different eligibility and application criteria. You will have to be very detailed with your search to maximize your chances of landing the best possible scholarship. You can check scholarship options here.
Conclusion
Looking at the overall picture, we think it would be safe to say that the U.S.A., Canada, Australia, and the U.K. look like some countries worth considering to move to for an MS program. However, your decision should be based on a thorough assessment of a wide range of factors explained above.
At Inspirus Education, we understand the importance of your aspirations and provide counseling and GRE Coaching classes to help you turn your dreams into reality. Our team of experts has helped many students get through their dream universities by guiding and coaching them throughout the journey. Remember, a dream without a plan is like a pencil without a lead – pointless. Drop us a line and let's start working together on getting you where you desire to be.
[simple-author-box]