As much as detailed information on the SAT is important, you should also know the ins and outs of how to prepare for the SAT exam. This means knowing the right way of approaching the SAT.
Here are a few tips on how to prepare for SAT: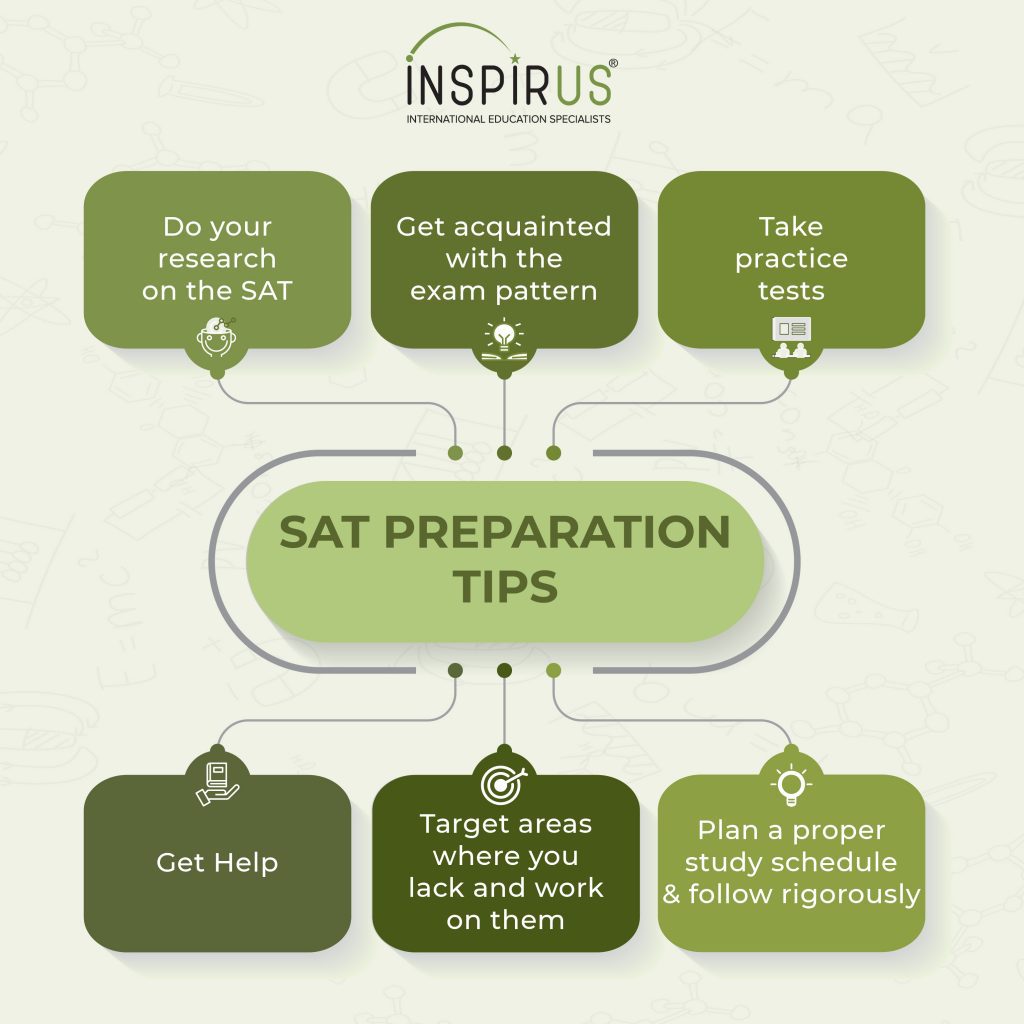 1. Do your research on the SAT:
Before you start your preparation for the SAT, get to know the ins and outs of SAT. Get to know the exam syllabus, exam pattern and question types well. Begin with this as your first step for your SAT preparation. Doing the basic research on the SAT will ensure that you know what to expect. Know everything about what is the SAT.
2. Get acquainted with the exam pattern:
Getting acquainted with the exam pattern will help you be prepared for the test day. Know what kind of questions are asked on the SAT. 
3. Take practice tests:
Taking practice tests will give you an idea of where you stand and how much more you need to prepare in order to achieve your target score. Take a few practice tests before you begin your SAT preparation.
4. Target areas where you lack and work on them:
After you take practice tests, you will get an idea of the sections in which you are performing well and sections where you lack and need to practice well.
5. Plan a proper study schedule:
The next step would be to, plan a proper study schedule. Depending on how much preparation you need, devote an adequate amount of time to your SAT preparation and begin studying. There's no other way of getting a perfect score on SAT than practising a lot!
6. Get help:
Get help for your SAT preparation, if you need to. There are various SAT coaching classes that provide comprehensive preparation for the exam. Tutors will help you prepare better for the exam.
Now that we have taken a look at a few tips, let us now see how to prepare for the SAT section-wise.
How to prepare for SAT – Reading 
The reading section of the SAT can get your mind clocks ticking real fast because it expects you to read a passage of over 3000 words in 65 minutes and answer 52 questions associated with your reading. That leaves about 12 minutes per passage if you want any time to review it at the end.
The only and very obvious way of preparing for this section is reading – and reading a lot. No prior knowledge is assumed in this section and you find all the answers to the questions in the reading material itself. So, when you're reading, what you actually have to work on is your time management skills, and it is mostly about how well and how efficiently you're being able to skim through the reading material.
Start with an untimed practice test for reading first. Observe which way of reading works best for you. Then move on to timed tests. Some people might find that, in a span of 65 minutes, they're able to read the introduction and conclusion paragraphs completely while simply reading the first and the last sentences of every paragraph, others might be able to skim through the entire passage and move on to solving the questions within those 65 minutes.
There is no one size fits all trick to solving the reading section. So, practice a lot, read a lot, and you'll get your way around it. Keep these points in mind while preparing for SAT.
How to prepare for SAT – Writing and Language 
The Writing section of SAT mostly tests the following skills:
Command of Evidence:
This refers to your ability to find concrete evidence within the passage to support the author's claims or answers to specific questions. You are tasked with improving the way information develops or the author conveys a certain idea.
You may be asked to revise a passage to correct an error in the writer's interpretation of a table, replace a general description with precise figures, or add accurate and relevant information in support of a claim.
However, note that these Reading and Writing and Language questions aren't math questions in disguise. You won't need to add, subtract, multiply, or divide. The questions instead ask you to "read" graphics and draw conclusions, much as you do when you read and interpret written texts.
Try to develop a clear understanding of what the writer is trying to say. You may then add or revise a topic sentence to improve the clarity and structure of the passage. You may also add or revise supporting material, such as a description or an example, to make the writer's claim or point more robust.
Words in Context:
This refers to your ability to decipher the meanings of vocabulary words within the context of the passage, and your ability to understand how word choice influences the style and tone of a text. These questions typically assess your vocabulary as you improve word choices according to a passage's tone or style. However, it is not always necessary that testing vocabulary means testing the knowledge of superfluous and verbose words. You might also choose words that are more precise or concise to improve the quality of the material.
Expression of Ideas
Questions in this section also test your ability to organize ideas and express them clearly, using the right words, without the loss or distortion of meaning.
Standard English Conventions
Having said all of this, it is quite obvious that your grammar game needs to be very strong in order to put a wholesome piece of impressive Writing section together in your SAT. So, if you feel that you somewhere lack adequate knowledge of grammar, it's time to brush up on it.
How to prepare for SAT – Math 
The SAT Math section consists of three major topic areas:
Heart of Algebra

Passport to Advanced Math

Problem Solving and Data Analysis
SAT Math sections are the 3rd and 4th sections on the SAT test. During the first 25-minute SAT Math section, you are NOT allowed to use a calculator. During the next 55-minute SAT Math section, you are allowed to use your calculator.
The best way to start off preparing for the maths section is taking a practice test and seeing which area you need to work the most on. For the Math section, there are basic facts and formula that you need to know. You'll be able to memorize them better only and only with enough practice. However, You are given geometry formulas with the math section, so prioritize memorizing your algebra and trigonometry formulas.
Once you start preparing and practicing:
practice on improving your speed

Try different ways of solving a question instead of going straight to checking the answer in case you're not being able to solve a question

Try to keep memorizing formulas

Perform basic calculations without a calculator

Take timed tests to practice time management and eliminate the chances of careless mistakes under pressure
How to prepare for SAT – Essay 
The SAT essay was made optional after the overhaul in 2016 but for all you know, your College Board might still need it. So, here we go.
While writing the essay, you need to make a clear argument that the reader can easily identify. All you have to do to create this clear argument which will be your precise central claim is to identify the main idea of the passage and list the methods the author uses to support it. The SAT essay rubric states that your essay should contain a precise central claim. Fortunately, you don't have to go hunting for this main idea because SAT already provides you that. However, while preparing for the essay, there are certain things that you need to keep in mind.
The SAT essay rubric states this about a perfect-Writing-score essay: "The response is cohesive and demonstrates highly effective use and command of language."
Command of language is something that cannot be developed overnight. So, it is essential that you read and write a lot as a part of practice for essay writing. Once you've really brushed up on your language, grammar and writing skills, (for which you need to start preparing early), you're less prone to getting stuck while writing the essay and having difficulty looking for words.
Most importantly, you need to practice writing without using first-person pronouns such as 'I' or 'me'. The SAT essay, after all, is an equivalent of a school paper, and not an opinion piece.
Want to ace your SAT Exam? Join SAT Coaching Classes In Mumbai at Inspirus Education.
[simple-author-box]